Mustang
1961965 Poppy Red "Shelby -Style" - constructed and run by hardtuned.com's underground laboratory5 Mustang




click on photo to enlarge

Features: 302, GT40 heads,JBA headers, Total Control subframe connectors, rack and pinion steering, coilover front suspension with heim joints, 5spd, 4wheel disc brakes, 1966 Shelby quarter windows, Shelby brake ducts, Shelby hood, front valence, sparco seats and belts, roll bar connected to rear spring mounts, ....

Serg Matchbox Replica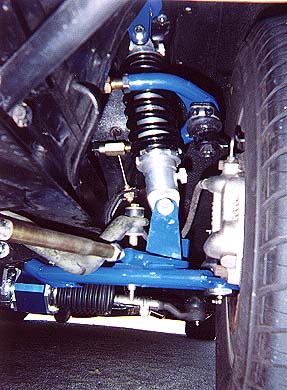 Front suspension....
above: in the process after suspension install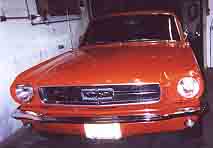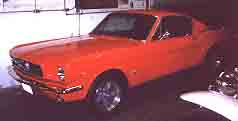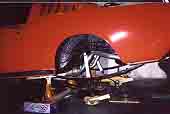 Above: The first shots - nice car but lots of GT stuff, some dents, wide rear end .....
1990 Ford Mustang LX 5.0
Owner: Jeff
This was the practical car for college and beyond. It stayed with me until early in 1997.
Key Features - 17" wheels, Koni showroom stock shocks, lots of different tires, Rallye 2000's from the Jetta
Key Incidents: Stolen from driveway of house where I was living while going to school - the bad news was that the car was recovered.
Hit - Bill was with me in Cupertino when some guy decided to turn right from a left turn lane as we drove by at 40mph. The impact locked the cruise control at full throttle...
This was also the official tow vehicle of the Mini.
Mileage - 130K of pure abuse - only mechanical failure - water pump.....
coming sometime....
serg's 69 Mustang Grande
mailbox crushing, sunday park cruiser....