KLLRBE -1973 MGB -owner -jeff
Another icon of the autoscene era.....
My first car - got it when I was 13 - restored it with help from my dad... The motor was built to the factory rallye specs from the late sixties - it had somewhere around 125 or 130hp. Black - Straight - and LOUD -


Key Features - straight pipe to a Supertrapp, mesh BBS style wheels, roll bar, sway bars, springs, dobi front spoiler, blacked out back up lights, flat fluted tripod headlights.....The top went up twice - for torential rain- otherwise was down rain or shine...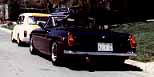 Key moments - flying off Palomares road into a fence with Serg compliments of some gravel and way too much speed, getting thumbs up from Ferrari 330 convertibles in Monterey, some moron trying to steal the Supertrapp while the car was running, blasting the tunnel in Monterey...Countless Autocrosses....