The ex-hardtuned Renault R16 is back on the market in Florida:
1969 renault r16 - $1000 (cutlerbay)
Date: 2010-06-02, 1:24PM EDT
Reply to: sale-vhzz8-1771582255@craigslist.org
come test drive 4 speed,colum shift,need some work,but drives grate.allan 786 426 xxxx
Location: cutlerbay
it's NOT ok to contact this poster with services or other commercial interests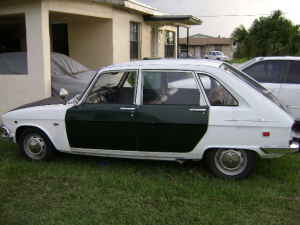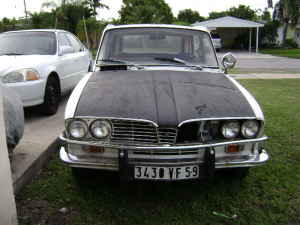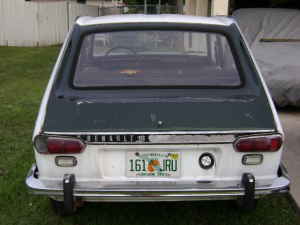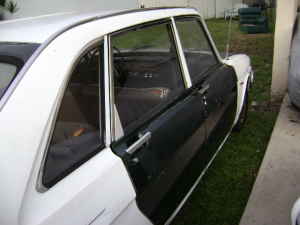 And on the other side of the country, a better example
66 Renault R16, 31, 266 miles! (Monterey)
Date: 2010-06-09, 12:25PM PDT
Reply to: sale-7ucge-1783588015@craigslist.org
I imported this car from Holland in 2003. It's a really lovely, low mileage R16. It's fate should not be the scrap yard. I love French Cars, I collect them, but I'm a klutz when it comes to fixing them. I took this car out one day on a small drive and one of the relays under the hood starting smoking. It burned up some wires and that was it. The brakes were "grabby" and I think that this somehow contributed to the problem. But before this happened, this was a car that ran like a top, had very few miles on it and was a wonderful example of an early R16. I did try to fix it, but I'm afraid I only made things worse by taking apart some parts and not remembering how to put them on again! I'm very sure that someone with some mechanical ability will be able to get this up and running in no time. Take a look at the pictures and see what great shape the car is in. The only things that don't work (besides the above problem) are the passengers and rear left door don't open by pushing in the button on the outside. Adopt and love this little car. They're great cars. For pick-up, you'll have to have a tow service that can winch it up on to their flatbed. The brakes are "grabby" so it's hard to push and is now on skates. The skates will go with the car. On eBay right now!
Location: Monterey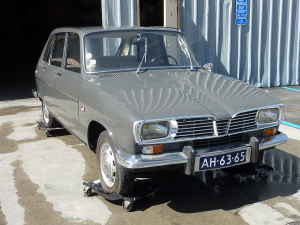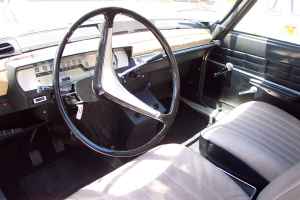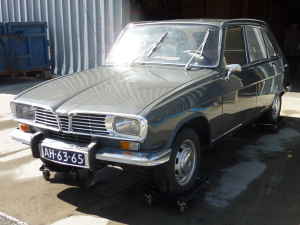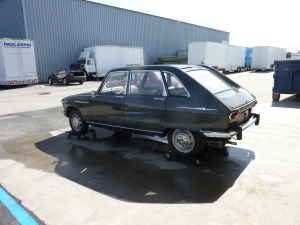 More:
1971 Renault 16 - $1195 (West Olive, MI)
Date: 2010-06-27, 4:58PM EDT
Reply to: see below
1971 Renault 16. Black and silver paint scheme. Looks good. Interior is excellent. Does not run currently but ran good when put into indoor storage years ago. Will need to be trailered. $1195 Call George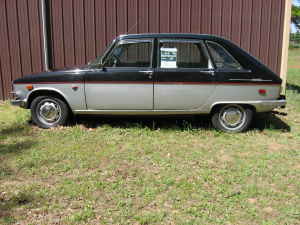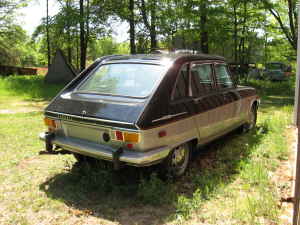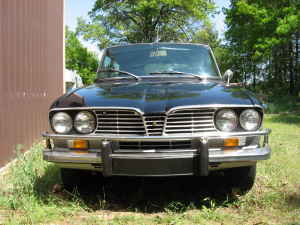 project car 69 RENAULT must sell today - $475 (modesto)
Date: 2010-07-08, 11:06AM PDT

im the 2nd owner
cars been parked for 5 years so wont start
but it ran when i parked it
paper work legit
has flat tires also , only missing back window
$475 obo must sell today as is
only 73.000 miles on it
tony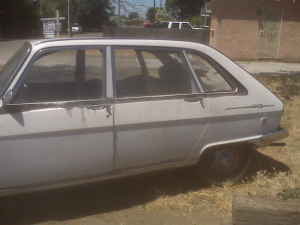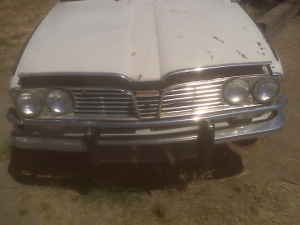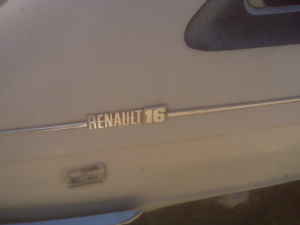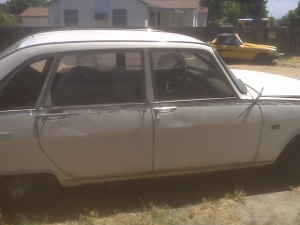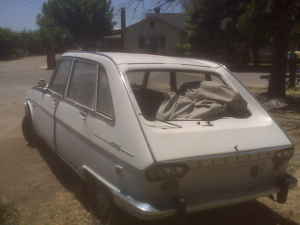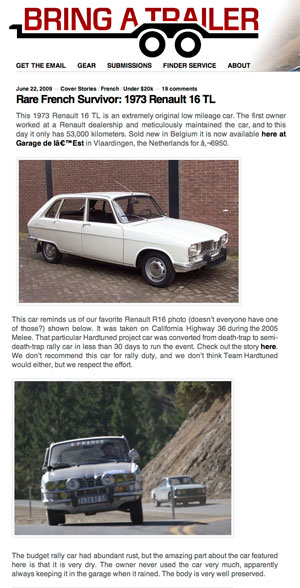 The above BAT ad featured the hardtuned R16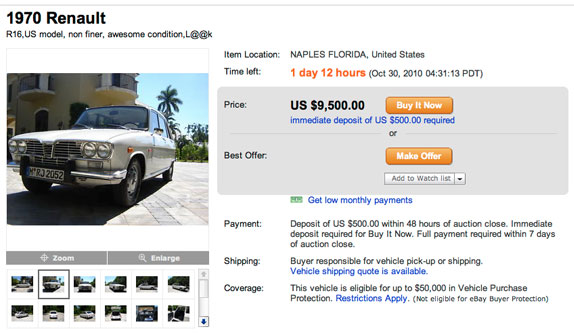 Another nice one....