Features . Events . Found On The Street . Extended Garage . Articles . Art . JAG Promotions . For Sale . Ecurie Ecrappe . Links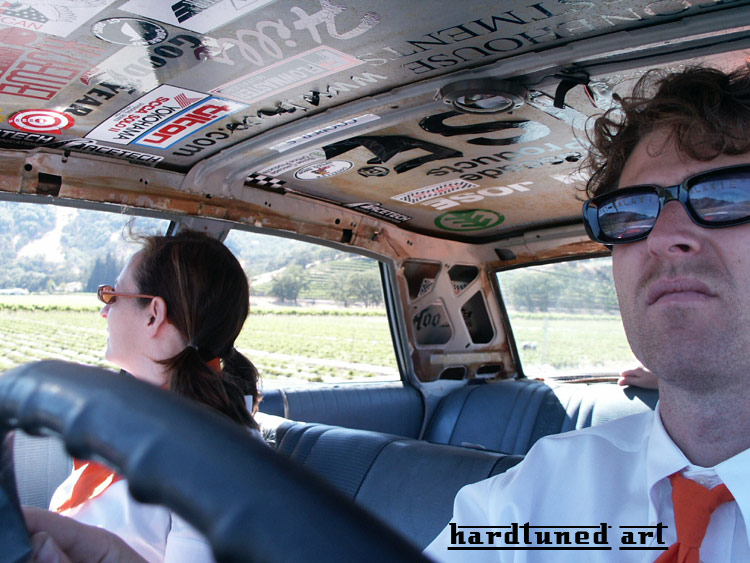 ---
Metal
Pedal Pusher Trophies

hardtuned's trophies for the 'Pedal Pusher Rally' for 2009, and 2010
24 Hours of LeMons Trophies 2009

hardtuned's run continues for the '09 season. Putting trash on the mantlepiece of the car-idiot
CSRG AWARDS 2008

hardtuned created the 2008 awards for the CSRG Vintage Racing series with plasma cut backgrounds and a bunch of sports 2000 gears...
24 Hours of LeMons trophies 2007-2008

hardtuned took on the role of creating awards for the growing LeMons series. Examples from 2007 and 2008 races...
Metal Christmas Tree

Back in 2005 we decided to ditch the live tree and make a metal tree that breaks into three pieces for storage.
---
Costumes
Costume Art

For a number of years, Haloween turned into our own Burning Man-style event. It all started with the first costumes we put together for the Headland's Center for the Arts 'Mystery Ball' a number of years ago. For some unknown reason, there was a (self inflicted) compulsion to upstage the previous year's costume for this event. This compulsion (before we burned out) is documented.
---
Other Media
Material Ornaments

CK made these fantastic car-themed fabric ornaments as gifts in 2008. You may recognize many of these cars from other parts of the hardtuned.com website!
---
Paint
Sports 2000 Paint Schemes

A crude study by JAGPromotions, in search of a paint scheme for a 1985 Tiga SC85
Brush and Acrylic Enamel on Renault R16

Brushed graphics on steel Renault canvas
Acrylic Enamel on dash and Galaxie

Orange and blue and rust.
Motor captured by The Painter of Crap, I Mean Light

An investigation reveals San Francisco transit guru Motor is featured a subject in many famous San Francisco works of Art.
---
From the more talented hands of others:
Oil Paintings by Atlasphere

Elizabeth Phau's groovy images from the melee and more on canvas. Two of them hang in hardtuned's formal dining room including the cortina and giulia painting here.